Static signage just doesn't entice buyers the way it used to, and most people are wary of face-to-face up-sales and cross-promotions. Today's consumers are more tech-savvy and ad-averse than ever, so you'll need dynamic, eye-catching digital displays to capture their attention and trust.
However, it can be tough to determine just how to use your digital signage solution to its greatest effect. Are digital signs simply screen-based versions of the same content you'd print? Hardly! Here are four tips for making the most of your screens, menu boards and cloud-based content.
Real-time Suggestive Selling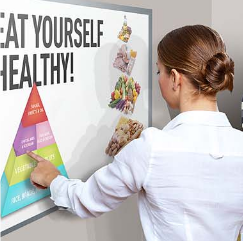 Most up-selling happens at the point of sale – one of the best spots for dynamic digital signage! Increase your customers' ticket prices with real-time suggestive sales at your registers. This is a great time to sell accessories to your flagship products, as well as long-term service agreements and warranties.
You can also use real-time suggestive sales throughout your stores with interactive menus. If your customers are flipping through product options and making decisions on their own, program suggestions for related items and timely promotions will have them primed to purchase by the time they reach a sales rep or register!
Catching Customers with Convenience
Pharmacies, photo kiosks and even vending machines are perfect places to offer convenient up-sells and cross-sells. Customers are already buying something they need in a pinch, so suggest a few more items that will make their lives easier. Your menu boards and interactive touch displays can offer food, coupons and any other must-have items you carry in your store. If your signage captures email addresses or IDs, you can even display customer-specific ads for products they're likely to want.
Up-sell with Education
When it comes to big purchases and long-lasting products, educational content is one of your most important sales tools. Don't just put prices and terms on your digital displays; offer helpful information! Savvy customers don't want to be bombarded by salespeople, but they do want to read, hear and digest product info on their own time and terms.
Instant Changes
Display swapping can be a huge time sink, especially for stores that rotate products every day. Employees become less available to customers, and sales may be lost during delayed changeovers. Fortunately, you can program digital signs to swap ads automatically based on the time of day, day of the week and changing promotions.
Instant display changes are especially useful for restaurants and grocery stores, where time and product availability have a huge influence on customers' decisions. It's a snap to swap out lunch and dinner menus, update prices and broadcast one-day deals.
By guiding customers towards proper purchasing decisions, you'll ultimately improve sales and long-term loyalty. Once your buyers trust your expertise, they'll be more likely to take your advice on up-sells – whether you offer them in person or on-screen.