You may be used to printing posters and other advertising collateral, but when you invest in a wide format printer, the services you are able to offer can increase exponentially. In fact, several printing companies across the country are experiencing an increase in business after purchasing new wide format printers. Read on to find out how business has expanded for these suppliers and how yours can, too.
In 2011, Directimage in Perth acquired an Acuity Advance HS 3565 flatbed, high-speed inkjet printer. The company also recently installed a 3.5m Uvistar.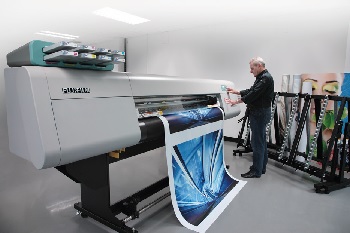 Now, in addition to being a major producer of posters, vinyls, point of sale products and directional signage, the company now offers a diverse range of signage services, including: billboards, adshels, real estate signage, floor graphics, vehicle wraps, shop front displays, bus and transit graphics, textiles and flag printing pullups and marquee decoration.
With the help of the Acuity printer, Directimage is not only surviving the industry downturn, it is flourishing. And the same is true for GSP Print, the outdoor production division of APN News & Media.
GSP decided to upgrade its printing abilities in 2012 with the purchase of an Inca Onset S20 digital flatbed printer and a Uvistar grand format UV printer.
"These two new machines significantly expand both our capability and capacity", Peter Piccione, general manager of GSP Print explains in the May 2012 issue of ProPrint. "They build our capability in the different outdoor segments, including roadside, street furniture and transit, and in the retail display segment of the point-of-sale market, which has been a very big growth area for us as well".
The new machinery positions GSP to capture and capitalise on high-quality, high-speed production in both POS and outdoor areas. It also strengthened the shop's ability to go after shorter runs. "The screen press is suitable for longer runs, but with campaigns coming in with several creative executions and multiple formats, it allows us to expand our offerings," Piccione says.
The new machines have allowed the shop to grow leaps and bounds in what it could previously offer. "[They] allow us to go for very high quality work that we didn't have access to previously, especially in POS and in retail environments, such as malls and airports," Piccione says. "It opens up new market categories for us and gives us a potential upside in turnover."
To learn more about the possibilities wide format printing can offer your business, download the free guide, "How to Make Money with Wide Format Printing", today.