Fujifilm Australia have been printing your photos using our special Green kiosks (DPC1) since 2001. In the beginning they could be spotted in stores in pairs and they were generally networked to a Frontier 330 printer that produced 570 6x4" prints per hour. From this initial set up we moved to the DPC2, 3 & 8, networked to the Frontier 340 which could produce up to 600 6x4" prints per hour.
And as the years rolled on, so did the technology - Now in stores you can find as many as 20 XTR kiosks networked to the latest Frontier LP5700R with it's outstanding capability which enables processing of up to 2,040 prints per hour.

So what is the next step? FUJIFILM have been working with UK-based NFC specialist Near Field Solutions on a modular system that allows consumers to transfer their images from their NFC (Near Field Communication) enabled 'smart phones' via Bluetooth. NFC is the latest D2D (Device to Device) Data transfer technology. The most recent consumer based application is with the "Pay Wave" EFTPOS terminals in retail. The system works on very close range radio communication. The immediate proximity of the two devices physically offers inherent security. The hybrid Bluetooth / NFC transfer method utilized on the FUJIFILM DPC simplifies the standard BT transfer of Mobile device images for printing by automating the "pairing" process. This is achieved using the android "Tap n Print" application which integrates with the NFC enabled phone, and the standard BT. Simply select your images using the app, and tap the Kiosk on the designated transfer point, and your selection is sent to the photo software to be printed. It's that easy! You can view our YouTube clip here.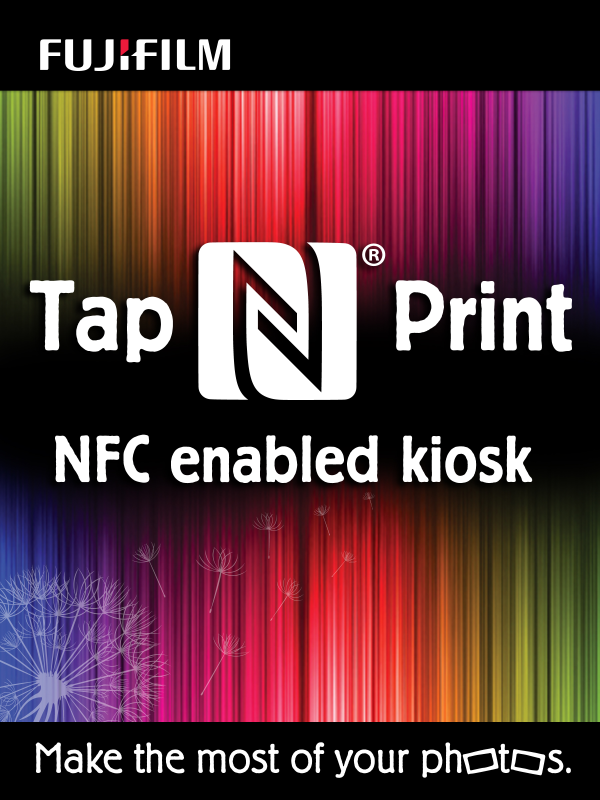 FUJIFILM are installing 'Tap n Print' technology to help make printing from mobile phones as easy as possible and it's not just 6x4" photos that can be printed. Tap n Print allows customers to select photos for posters, photobooks and other photo gifts.This technology is expected to start rolling out around Australia toward the end of 2012.
If you have an iPhone or want to print your Instagram photos FUJIFILM will have this covered too. A roll out of iPhone cables is underway to FUJIFILM printing centres across Australia to make iPhone printing easy....it's simply plug in the cable provided by the cashier and upload your photos to the kiosk. FUJIFILM have also develped special sizes to allow for the Intagram Photo. 5x5" and 6x6" prints fit perfectly for the format that they were taken and now enable customers to print photos from their Instagram app.
So now we have your phone printing and app sizes covered....Photo printing from phones made easy all you have to do is connect to a FUJIFILM kiosk.