Now that you know ways to succeed in the business of event photography and making your customers happy, here are seven locations where event photography can make the biggest bang.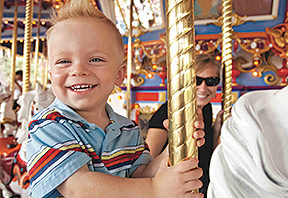 Corporate Events: Every business, big or small, partake in a range of occasions, events, sponsorships and outings with customers, suppliers and staff as a way to entertain and reward one another. These experiences often provide once in a lifetime moments which should be captured and remembered forever. Whether it be an exclusive private show from a band at the Christmas party or conference, a hot air-ballooning experience in a reward package or a funny moment at a team building event; there is no better way to provide a memento to walk away with which will forever be remembered and linked to your company.
Recreation Destinations: Go-Kart tracks, putt putt golf, bowling alleys, skirmish and rock climbing are meant for bonding. Whether it is a father and his son, a group of teenagers, or a babysitter and her crew, these spots serve as relationship builders. And what extends those bonds? Photos help the preservation of memories. Help these groups keep their relationships flourishing with a little reminder of their fun-filled day they spent together.
Animal Experiences – The Zoo/Aquarium: When a child holds a baby crocodile or a snake, or cuddle a koala or kiss a dolphin, they want to tell their friends about it. And when their friends wave them off in disbelief, they can produce proof in the form of a photo taken and printed at the scene of the braeg-worthy event. Tourists & families visit the zoo, not just to see the animals, but to develop memories of amazing holidays and are happy to purchase professional photographs that capture this joy.
Weddings: This one is more for those hard-working, busy bee adults who finally have a reason to let go and have a good time—their friends fell in love and are getting hitched! Portable photography, which allows for image to be printed right at the reception, a simple but personal gift for guests to help them remember those good times and can even create a lively keepsake for the bride and groom.
Theme Parks: Capturing a child's pride after finishing the tallest waterslide or his admiration while meeting his favourite comic book character is a moment that parents will want to remember forever. When you offer instant access to these memories with portable photography solutions, you help families not only make memories, but showcase them too.
Sporting, Music and Cultural Events: Children and adults idolise their favourite sports stars and entertainers, so when they finally get to see a game-winning shot or hear their favourite song played by their favourite band live, they experience a defining moment in their lives: a memory that solidifies their love for the game or their music forever. Catching this feeling on paper is not something that game and concert goers think of in the moment. But with your helpful reminder, they can have a lasting memory of that day.
With a little business sense, personality, and creativity, you can make a profitable living with event photography. To learn more about portable event photography solutions, like the bizziBOX, contact FUJIFILM today.